Ria Alldorf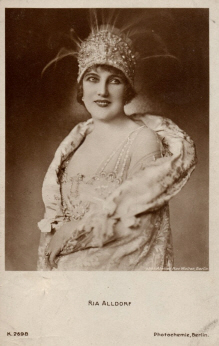 Foto: Mac Walten (1872-1936)
? - ?
.
.
The actress Ria Alldorf made her first acting experiences at the theater.
Her first film appearances can be backdated to the year 1918 where she took part in the movie "Amor in der Klemme" (18). It followed movies like "Die Frau mit den Opalaugen" (18), "Der Badegatte" (19), "Der Wirrwarr" (19), "Die Seebademieze" (19), "Der Hausfreundstellvertreter" (19), "Die Tochter des Organisten" (20), "Der Kampf der Geschlechter" (20) and "Brillantenmieze" (21).

Other productions with Ria Alldorf were "Frauenbeichte" (21), "Die Erlebnisse einer Kammerzofe" (21) and "Söhne der Hölle" (21).