Erika Fiedler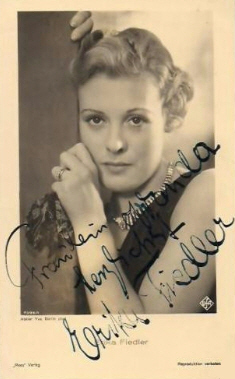 Foto: Yva (1900-1944)

1906 - ?
.
.
The actress Erika Fiedler took only part in few movies at the beginning of the 30s.

Her first appearance in front of the camera was for "Goldblondes Mädchen, ich schenk Dir mein Herz" (32) with Charlotte Ander, Felix Bressart, Oskar Sima and Adele Sandrock.

Afterwards she took part in the short film "Alles für Anita!" (33) with Hans Brausewetter and Anton Pointner and finally she impersonated the role of the photographer Anni Schubert in Alfred Zeisler's "Eine Tür geht auf" (33) at the side of Hermann Speelmans, Fritz Odemar and Oskar Sima.

Erika Fiedler was married with the illustrator Theo Matejko.