Blanka Glossy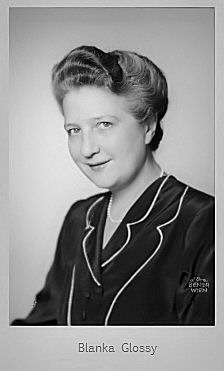 Foto: D'Ora Kallmus (1881-1963)
Mit freundlicher Genehmigung
Österreichische Nationalbibliothek Copyright

1893 - 1952
.
.

The actress Blanka Glossy was born as the daughter of Karl Glossy who was very interested in the theater world. She was primarily active on stage where she later often impersonated funny roles.

She made her stage debut at the legendary Burgtheater in 1912 where she appeared time and again till to the old age.

Beside it she became also popular as an interpreter of so-calles Altwiener songs which often had a comical content.

Blanka Glossy only took part in movies rarely, among others in "Leise flehen meine Lieder" (33) directed by Willi Forst. In this movie she played the landlady at the side of Hans Jaray, Martha Eggerth, Luise Ullrich, Hans Moser and Otto Tressler.

Beside her acting activity she was also busy as a talented graphic artist. Moreover she also published the book "Josephine Gallmeyer" in 1947 which she wrote together with G. Berger.