Lily Rodien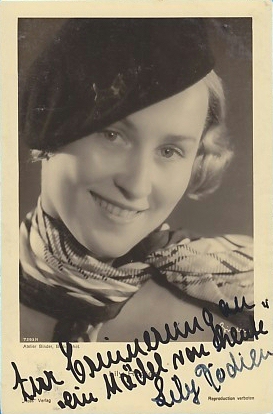 Foto: Alexander Binder (1888-1929)
? - ?
.
.
The actress Lily Rodien only appeared seldom in front of the camera.
Her first cinematical works came in 1933 into being and she took part in the movies "Eine Tür geht auf " (33) directed by Alfred Zeisler, "Mädels von heute" (33) with Viktor de Kowa and Aribert Mog as well as the short movie "Die Wette" (33) with Jakob Tiedtke, Ida Wüst and Paul Henckels.

After an interruption of four years followed already her last movie with "Serenade" (37) with Hilde Krahl and Albert Matterstock.