Raphael Duflos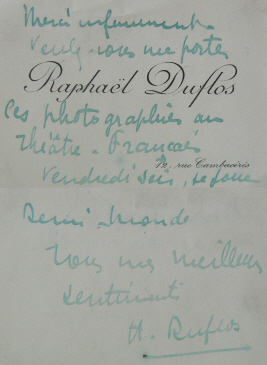 1858 - 1946
.
.
The actor Raphaël Duflos belonged to the legendary Comédie française and he was a member from 1896 to 1924.

He was a successful stage actor who also took part in few movies from time to time.

His first cinematical work came with "L'assassin du duc de Guise" (08) into being.
In the next years followed other silent movies like "Le droit de l'enfant" (14), "L'instinct" (16), "C'est pour les orphelins" (16), "La flambée" (16) and "Travail" (20).

Besides his activity as an actor he was also busy as a professor at the National Conservatory of dramatic art. To his students belonged well-known names like Maurice Escande, Fernand Ledoux, Huguette Duflos, Charles Boyer, Marie Bell, Annie Ducaux and Madeleine Renaud.

Raphaël Duflos was married with the actress Huguette Duflos.