Renee Maria Falconetti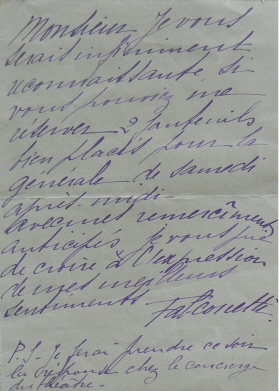 1892 - 1946
.
.
The actress Renée Maria Falconetti belonged to the most popular stage actress in France of the 1920s.
Because of her impressive acting both in dramas and comedies she was compared with stars like Eleonora Duse.

When her parents became separated she grew up by her grandmother but later her mother moved her to a children's home.
So the joung Falconetti turned to her dream world to become an actress when she was eight years old.
She impersonated her first leading role for a school performance in 1950 and with it she set the course for her future career.

When she met the wealthy Henri Goldstück with whom she had an affair, he supported her plans to become an actress. She entered the Conservatoire d'art dramatique in Paris and after her education she made her stage debut in 1915 at the Théatre de l'Odéon in Paris.
She remained there till 1918 and was already very successful.

She played her first movie roles in 1917 for the short films "Le clown" (17) and "La comtesse de Somerive" (17) but afterwards concentrated again to her stage career.

In the 20s she was successful at different theaters in Paris and she worked together with stars like Charles Boyer and Harry Baur.

She joined the Comédie Française in 1924 where she acted in different plays till 1925, afterwards she played roles in classics like "Lorenzaccio" (27) and "Die Kameliendame" (28).

Fateful was her appeared in the play "La Garçonne" where she was spotted by the director Carl Theodor Dreyer.
He engaged her for the leading role for his movie "La passion de Jeanne d'Arc" (28).
Although the movie was not so successful at the cinema box office the movie became a classic of the French silent film in later years and Renée Maria Falconetti became an icon of the silent movie era.

Falconett tried to became independent and she founded the Théâtre de l'Avenue.
Despite some popular plays the theater run into debt and was closed in May 1930.

The result was financial problems for Falconetti and she sold her flat in Paris and the country estate near Compiège and moved to Switzerland.
It followed few side trips to Paris where she appeared again on stages, the last time in 1935.

When France was occupied by the German Wehrmacht she emigrated with her son via Spain to Rio de Janeiro and later to Buenos Aires.
There she died at the age of only 54 in 1946.