Jerry Livingston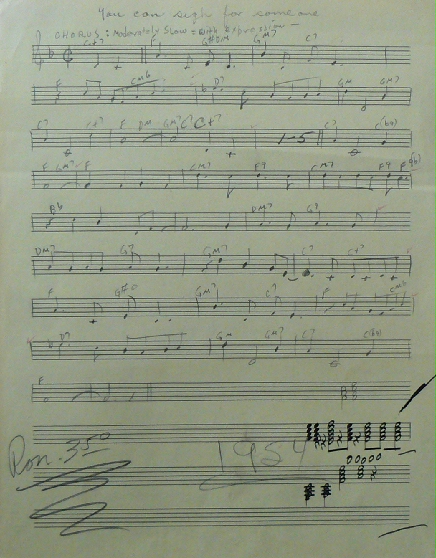 1909 - 1987
.
.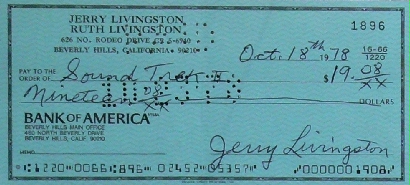 Der Filmsongkomponist Jerry Livingston wurde als Jerry Levinson in Denver geboren.
Er studierte Musik an der Universität von Arizona und komponierte dort sein erstes Werk für ein College-Musical.
In den 30er Jahren übersiedelte er nach New York, wo er zunächst als Pianist für Tanz-Orchester spielte. Schliesslich folgten erste erfolgreiche Hits wie "Darkness On The Delta", "Blanket Of Blue" und "Talk Of The Town".
Er gründete eine Jazzband und tourte durch die USA.
Als er die Sängerin Ruth Schwartz heiratete und 1940 ein Kind geboren wurde, gab Jerry Livingston sein Tourleben auf und konzentrierte sich wieder vermehrt auf das Komponieren von Songs.
Als er 1939 für den Film "Jerry Livingston and His Talk of the town Music" (39) die Musik schrieb, war dies der Beginn einer erfolgreichen Filmlaufbahn, in welcher er für viele Filme meist die Songs beisteuerte, oftmals in Zusammenarbeit mit dem Texter David Mack.
Zu seinen Arbeiten der 40er Jahre gehören Filme wie "Get Hep to Love" (42), "South of Dixie" (44), "Swing in the Saddle" (44) und "That Brennan Girl" (46).
Seine erfolgreichste Zeit kam in den 50er und 60er Jahren, wo er zunächst fürs Kino und später für das Fernsehen bekannte Lieder schrieb.
Zu den bekanntesten Filmen der 50er Jahre gehören "Montana" (50), "Cinderella" (50) - die ihm die erste Oscar-Nomination einbrachte, "Alice in Wonderland" (51), "Sailor Beware" (53), die Serie "Cheyenne" (55), "The Hanging Tree" (59) - mit seiner zweiten Oscar-Nomination und die Serie "Bourbon Street Beat" (59).
In den 60er Jahren schrieb Jerry Livingston vor allem für Fernsehserien Titelmelodien, aber auch beim Kino trat er nach wie vor in Erscheinung.
Zu den populärsten Melodien gehören Kompositionen zu der Serie "Bronco" (60), die Serie "The Bugs Bunny Show" mit dem Lied "That Is It", "Follow That Dream" (62), die Serie "Hawaiian Eye" (59-63), die Serie "77 Sunset Strip" (58-64) und "Cat Ballou" (65) - die ihm die dritte Oscar-Nomination einbrachte.
Ausserhalb des Films schrieb Jerry Livingston auch Musicals für den Broadway, darunter "Molly" und "Bright Lights of 1944".
Jerry Livingston wurde 1981 in die Hall of Fame der Songwriter aufgenommen.
Weitere Filme von Jerry Livingston:
Stage Door Canteen (43) Bells of Rosarita (45) Casper's Spree Under the Sea (50) At War with the Army (50) The Stooge (52) Jumping Jacks (52) Two Chips and a Miss (52) Scared Stiff (53) Serie "Sugarfoot" (57) Serie "Colt .45" (57) Serie "Shirley Temple's Storybook" (58) Serie "The Alaskans" (59) Serie "Bourbon Street Beat" (59-60) Sergeant Rutledge (60) Guns of the Timberland (60) Serie "The Roaring 20's" (60-61) Serie "Lawman" (58-62) Serie "Surfside 6" (60-62) Serie "The Dick Van Dyke Show: The Twizzle" (62) For Those Who Think Young (64)