Victor Young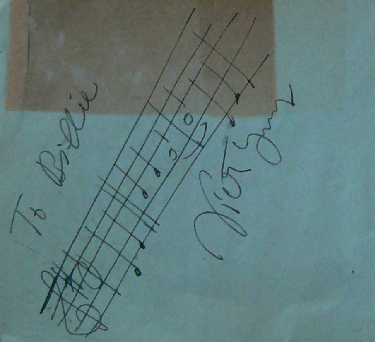 1899 - 1956
.
.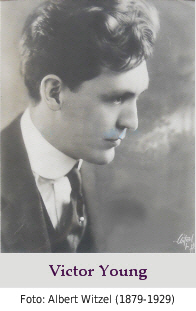 Der Filmkomponist, Jazz-Musiker, Bandleader und Violinist Victor Young gehört zu den erfolgreichsten Hollywood-Komponisten.
Im Alter von 10 Jahren genoss er eine musikalische Ausbilung in Europa am Warschauer Konservatorium, wo er Violine studierte und auch als Violinist auf Tournee ging.
Als er in die USA zurückkehrte, arbeitete er zunächst als Konzertmeister, anschliessend spielte er als Geiger und Arrangeur Unterhaltungsmusik für die Big Band von Ted Fiorito.
Auf seinem Weg zum Film kam er zunächst in den 20er Jahren zum Radio, wo er als Komponist und Orchesterleiter tätig war.
Schliesslich ging er in den 30er Jahren nach Kalifornien, wo er mit seinem eigenen Orchester Stars wie Bing Crosby und 1938 mit Judy Garland, mit der er die erste Aufnahme ihres Welthits "Over the Rainbow" für Decca Records aufnahm.
Beim Film trat seine Musik erstmals anfangs der 30er Jahre in Erscheinung, zunächst mit selbstkomponierten Lieder und ab Ende der 30er Jahre auch mit ganzen Filmkompositionen.
Zu seinen frühen filmischen Arbeiten gehören "A Mail Bride" (32), "That Goes Double" (33) und "The Old Man of the Mountain" (33).
1936 setzte er sich endgültig als Filmkomponist durch und er vertonte in den kommenden Jahren unzählige Filme, darunter auch viele Klassiker.
Zu seinen bekanntesten Filmen der 30er Jahre gehören "Klondike Annie" (36), "The Milky Way" (36), "The Big Broadcast of 1937" (36), "Easy Living" (37), "Wells Fargo" (37), "The Gladiator" (38), "Union Pacific" (39), "Man of Conquest" (39), "Golden Boy" (39) und "Gulliver's Travels" (39).
In diesem Jahrzehnt wurde er bereits für sechs Oscars nominiert - 1939 alleine vier Mal - gewinnen konnte er ihn bis dato jedoch noch nicht.
In den 40er Jahren blieb die Schaffenskraft von Victor Young unvermindert und er untermalte grosse und kleine Filmproduktionen mit seiner Musik.
Dazu gehören Filme wie "The Ghost Breakers" (40), "Untamed" (40), "Arizona" (40), "Road to Zanzibar" (41), "Nothing But the Truth" (41), "The Great Man's Lady" (42), "The Glass Key" (42), "The Palm Beach Story" (42), "Reap the Wild Wind" (42), "Road to Morocco" (42), "For Whom the Bell Tolls" (43), "The Uninvited" (44), "The Story of Dr. Wassell" (44), "Ministry of Fear" (44), "Love Letters" (45), "The Blue Dahlia" (46), "Golden Earrings" (47), "The Big Clock" (48), "The Emperor Waltz" (48), "The Paleface" (48), "The Accused" (49) und "Samson and Delilah" (49).
Für seine Arbeiten dieser Jahre wurde er für 14 weitere Oscars nominiert, doch auch dieses Mal wurde ihm kein einziger zugesprochen.
Seine letzten Filmkompositionen entstanden in den 50er Jahren, die erneut gekennzeichnet waren von einer Grosszahl an Filmen.
Victor Young schrieb die Musik zu "Riding High" (50), "The Fireball" (50), "Rio Grande" (50), "My Favorite Spy" (51), "The Greatest Show on Earth" (52), "Scaramouche" (52), "The Quiet Man" (52), "Blackbeard, the Pirate" (52), "Shane" (53), "Forever Female" (54), "Three Coins in the Fountain" (54), "Johnny Guitar" (54), "The Left Hand of God" (55), "The Vagabond King" (56), "Around the World in Eighty Days", "Written on the Wind" (56), "The Buster Keaton Story" (57), "Istanbul" (57) und "Forty Guns" (57).
Nach zwei weiteren Oscar-Nominationen - nun insgesamt 22 - wurde ihm für seine Musik zu "Around the World in Eighty Days" endlich der Oscar zugesprochen.
Leider konnte Victor Young diesen späten Triumph nicht mehr erleben, einige Monate vor der Verleihung verstarb Victor Young im Alter von 57 Jahren. Der Oscar wurde ihm posthum verliehen.
1970 wurde Victor Young in die Hall of Fame der Songwriter aufgenommen.
Weitere Filme von Victor Young:
Three's a Crowd (32) Mills Blue Rhythm Band (33) Heart of the West (36) Hideaway Girl (36) Anything Goes (36) Frankie and Johnnie (36) Fatal Lady (36) My American Wife (36) Born to the West (37) Artists & Models (37) Maid of Salem (37) Swing High, Swing Low (37) Make Way for Tomorrow (37) Mountain Music (37) Vogues of 1938 (37) Double or Nothing (37) Ebb Tide (37) The Big Broadcast of 1938 (38) Romance in the Dark (38) Army Girl (38) Breaking the Ice (38) Peck's Bad Boy with the Circus (38) Flirting with Fate (38) Fisherman's Wharf (39) Undercover Doctor (39) Heritage of the Desert (39) Grand Jury Secrets (39) Way Down South (39) Island of Lost Men (39) Death of a Champion (39) Range War (39) Everything's on Ice (39) Honeymoon in Bali (39) Law of the Pampas (39) Raffles (39) Our Neighbors – The Carters (39) The Night of Nights (39) The Llano Kid (39) All Women Have Secrets (39) Escape to Paradise (39) The Light That Failed (39) Parole Fixer (40) Santa Fe Marshal (40) The Farmer's Daughter (40) Road to Singapore (40) Dark Command (40) The Light of Western Stars (40) Buck Benny Rides Again (40) The Way of All Flesh (40) Three Faces West (40) Those Were the Days! (40) Mystery Sea Raider (40) Rhythm on the River (40) I Want a Divorce (40) Arise, My Love (40) North West Mounted Police (40) Knights of the Range (40) Dancing on a Dime (40) Three Men from Texas (40) Pacific Blackout (41) A Night at Earl Carroll's (40) Moon Over Burma (40) Love Thy Neighbor (40) Virginia (41) The Mad Doctor (41) The Roundup (41) I Wanted Wings (41) Reaching for the Sun (41) One Night in Lisbon (41) Caught in the Draft (41) Kiss the Boys Goodbye (41) World Premiere (41) Aloma of the South Seas (41) Hold Back the Dawn (41) Buy Me That Town (41) Skylark (41) Glamour Boy (41) Forced Landing (41) The Fleet's In (42) The Remarkable Andrew (42) Take a Letter, Darling (42) Beyond the Blue Horizon (42) Sweater Girl (42) Priorities on Parade (42) Flying Tigers (42) The Forest Rangers (42) Mrs. Wiggs of the Cabbage Patch (42) My Heart Belongs to Daddy (42) Silver Queen (42) No Time for Love (43) The Crystal Ball (43) Young and Willing (43) The Outlaw (43) Salute for Three (43) China (43) Buckskin Frontier (43) Hostages (43) Riding High (43) True to Life (43) And the Angels Sing (44) The Great Moment (44) Frenchman's Creek (44) And Now Tomorrow (44) Practically Yours (44) A Medal for Benny (45) Target Tokyo (45) The Great John L. (45) You Came Along (45) Kitty (45) Masquerade in Mexico (45) Two Years Before the Mast (46) To Each His Own (46) Our Hearts Were Growing Up (46) The Searching Wind (46) California (47) Suddenly It's Spring (47) Calcutta (47) The Imperfect Lady (47) The Trouble with Women (47) Unconquered (47) Where There's Life (47) I Walk Alone (48) So Evil My Love (48) State of the Union (48) Dream Girl (48) Beyond Glory (48) Night Has a Thousand Eyes (48) Miss Tatlock's Millions (48) The Lucky Stiff (49) Bride of Vengeance (49) A Connecticut Yankee in King Arthur's Court (49) Streets of Laredo (49) Chicago Deadline (49) Song of Surrender (49) Sands of Iwo Jima (49) My Foolish Heart (49) The File on Thelma Jordon (50) Deadly Is the Female (50) Paid in Full (50) Bright Leaf (50) Our Very Own (50) September Affair (50) Belle Le Grand (51) Payment on Demand (51) The Lemon Drop Kid (51) Bullfighter and the Lady (51) Appointment with Danger (51) This Is Korea! (51) A Millionaire for Christy (51) Honeychile (51) The Wild Blue Yonder (51) Something to Live For (52) Anything Can Happen (52) The Story of Will Rogers (52) One Minute to Zero (52) Thunderbirds (52) The Star (52) The Stars Are Singing (53) A Perilous Journey (53) Fair Wind to Java (53) The Sun Shines Bright (53) Little Boy Lost (53) Flight Nurse (53) Tanga-Tika (53) Geraldine (53)
Jubilee Trail (54) Knock on Wood (54) Once Upon an Eastertime (54) Trouble in the Glen (54) About Mrs. Leslie (54) Light's Diamond Jubilee (54) Drum Beat (54) The Country Girl (54) Timberjack (55) Strategic Air Command (55) Serie "Medic" (54-55) Son of Sinbad (55) The Tall Men (55) A Man Alone (55) Bing Presents Oreste (56) The Conqueror (56) The Maverick Queen (56) The Proud and Profane (56) The Brave One (56) China Gate (57) Arrivederci Roma (57) Run of the Arrow (57) Omar Khayyam (57)