Anny Ahlers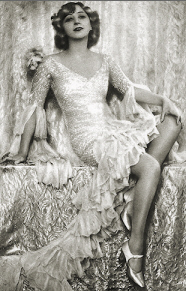 Foto: Edith Barakovich (1896-1940)

1902 - 1933
.
.
The actress and singer Anny Ahlers was well-known for the audience because of her wonderful singing voice in the first place.

She already entered the filmbusiness during the silent movie era and she acted among others in the movie "Casanova" (28). Her trained voice was adequate used with the transition to the talkies and she appeared successfully in the productions "Die Marquise von Pompadour" (30), "Der wahre Jakob" (31), "Die verliebte Firma" (31), "Die Liebesfiliale" (31) and "Die Faschingsfee" (31).

Although she hardly spoke English she went to London in 1932 to take over the leading role in the play "The Dubarry". Thanks to her vocal voice she could captivate the audience overnight and she acted in front of a full house for several months.

Anny Ahlers had to struggle against difficulties with her health at that time. When she fell from the window of her flat (suicide?) she was dead on the spot.