Rosa Bertens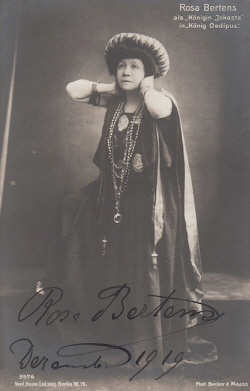 Foto: Becker & Maass (Atelier 1902-1938)

1861 - 1934
.
.
The actress Rosa Bertens belonged to the successful stage actresses at the end of the 19th century and she acted besides many other famous actors of her time, among others also Ernst Lubitsch.

At the old age of 60 she made her film debut with "Im Strudel der Grossstadt" (21) with Hanni Weisse and Albert Paulig, directed by Kurt Gerron.

Her cinematical works remained seldom, the theater was always her core activity.
In the next years she only appeared for "Wege der Liebe" (24) with Wilhelm Diegelmann and Lydia Potechina as well as the sound film "Der Erlkönig" (31) at Otto Gebühr's side in front of the camera.

Rosa Bertens was related with the photographer Madame Dora (in fact Dora Kallmus), who also had ttaken the adjoining picture.