Elfriede Borodin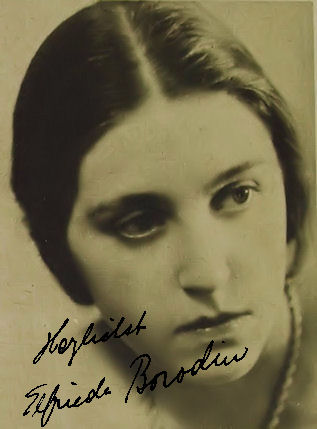 Foto: Alexander Binder (1888-1929)

1909 - 1992
.
.
The actress Elfriede Borodin was besides her enagements at the theater also active in few German movies at the end of the 20s and at the beginning of the 30s.

In "Die Abenteurer G.m.b.H." (29) directed by Fred Sauer with Carlo Aldini, Eve Gray, Hans Mierendorff and Jack Mylong-Münz she played Jeanette Finné, it followed as Ines "Flucht in die Fremdenlegion" (29) with Hans Stüwe, Alexander Murski, Eva von Berne, Harry Hardt, Eugen Burg and Alexander Granach and as Betty "Atlantik" (29) directed by Ewald André Dupont with Fritz Kortner, Elsa Wagner, Heinrich Schroth, Julia Serda, Lucie Mannheim, Franz Lederer, Willi Forst, Hermann Vallentin and Theodor Loos.

Afterwards she impersonated the role of Brita in Victor Sjöström's "Väter und Söhne" (30) with Rudolf Rittner, Franziska Kinz, Alfred Gerasch and Martin Herzberg, she was Marie in Hans Steinhoff's "Mein Leopold" (31) at the side of Max Adalbert, Harald Paulsen, Camilla Spira, Gustav Fröhlich, Paul Henckels, Ida Wüst and Hilde Hildebrand and she was Elli in the short film "Hugos Nachtarbeit" (33) directed by Max Ehrlich with Kurt Lilien, Lotte Lorring and Kurt Vespermann

Afterwards her career ended in the National Socialist Germany.

She emigrated to the USA where she appeared again in few movies in the 40s but normally playing very small roles.
To these works belong as nurse "Black Friday" (40) with Boris Karloff, Bela Lugosi and Ann Gwynne, as Leni "Woman of the Year" (42) directed by George Stevens with Spencer Tracy, Katherine Hepburn, Fay Bainter, William Bendix and Ludwig Stössel and as a saleswoman Jules Dassin's "Reunion in France" (42) at the side of John Wayne, Joan Crawford, Albert Bassermann and John Carradine.