Alexander Girardi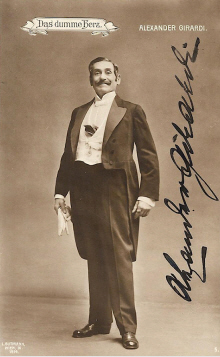 Foto: Ludwig Gutmann (1869-1943)

1850 - 1918
.
.
The actor Alexander Girardi first made an apprenticeship as a metalworker before he decided to become an actor. He soon made his stage debut with a lay group.wählte nach dem Besuch einer Schlosserlehre den Weg zur Schauspielerei und er konnte sein Bühnendebüt bei einer Laiengruppe feiert.

They quickly recognized the acting ability of Alexander Girardi and in 1871 he already was engaged by the Viennese Strampfer-Theater.
From there he continued his triumphant success and he appeared among others at the Theater an der Wien and at the Deutsches Volkstheater Wien. Engagements in Berlin and Hamburg followed.

In the next years Alexander Girardi became one of the leading stage actors who also was brilliant in musical plays.

Because of his huge popularity his acting abilities were banned on celluloid for the first time with "Fiakerlied" (08).
Other cinematical works followed with the musical play "Wann der Auerhahn balzt" (11) with Else de Vére and "Der Millionenonkel" (13) vdirected by and with Hubert Marischka, Bernhard Baumeister and Hilde Radney.