Alfred Grünfeld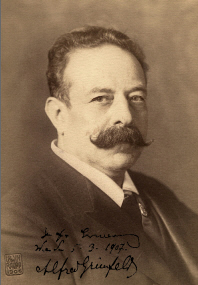 Foto: Erwin Raupp (1863-1931)

1852 - 1924
.
.
The composer Alfred Grünfeld already learnt to play an instrument at the age of 4 and in later years he studied at the conservatory in Prague and afterwards at the Neue Akademie der Tonkunst in Berlin.

After his education he made first experiences as a chamber musician, it followed tours through Europe and USA.

Thank to his popularity as a musician and composer Alfred Grünfeld got an engagement for the early silent movie "Johann Strauss an der schönen blauen Donau" (13).
This was his only appearance in a movie.