Bruno Harprecht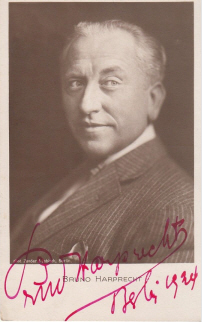 Foto: Siegmund Labisch (1863-1942)

1875 - 1948
.
.
The actor Bruno Harprecht worked as a successful actor at different German theaters when he came in contact with the film business in 1919 for the first time.

To his silent movies belong "Die Siebzehnjährigen" (19) with Hanni Weisse and Kurt Vespermann, "Liebe" (19) ass James Illing with Karl Platen and Reinhold Schünzel, directed by Manfred Noa as well as "Das Medium" (21) with Lil Dagover and Werner Krauss.

Thereafter followed a longer interruption and he concentrated again to the theater exclusively.

He continued his film career only from 1937, among them "Streit um den Knaben Jo" (37), "Ein Volksfeind" (37), "Rembrandt" (42), "Träumerei" (44), "Shiva und die Galgenblume" (45) and "Das Mädchen Juanita" (45).

Bruno Harprecht only took part in one more movie after the war with "Das kleine Hofkonzert" (48). In the same year he deceased.