Heinz Hilpert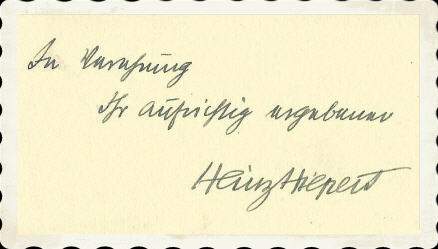 1890 - 1967
.
.
The director and actor Heinz Hilpert belonged to the most important theater directors in Germany till 1945.
He began his stage career as an actor in Berlin where he got his first engagement at the Volksbühne. In the middle of the 20s he was engaged by Max Reinhardt and Heinz Hilpert became an important source of inspiration for the German theater in the next years.
Besides classic plays he also supported new plays like "Geschichten aus dem Wiener Wald" or the work of young authors like Carl Zuckmayer.

With the rise of the National Socialists the great Max Reinhardt was pushed to migration and Heinz Hilpert took over the management of the "Deutsches Theater". He also used this function to campaign for haunted artists and gave them an occupation.

Heinz Hilpert also entered the film business in 1919 as an actor and he impersonated his first role in front of the camera for "König Nicolo" (19). It followed few more silent movies like "Der Knabe Eros" (20) and "Prinz Louis Ferdinand" (27).

As a movie director he shot his first film in 1931 with "Drei Tage Liebe" (31) and he realised other movies as a director in the next years.
To these works belong "Ich will Dich Liebe lehren" (33), "Liebe, Tod und Teufel" (34), "Lady Windermeres Fächer" (35) and "Die unheimlichen Wünsche" (39).

Heinz Hilpert continued his stage career after the war, first in Zurich and Vienna and finally in Germany too.
He continued his engagement to perform new plays, again by the authr Carl Zuckmayer as well like "Des Teufels General" (46), "Der Gesang im Feuerofen" (50) and "Ulla Winblad" (54).

He also took part in the film business again after the war.
As an actor he appeared in the productions "Königliche Hoheit" (53), "Die goldene Pest" (54), "Rosen im Herbst" (55), "Die Barrings" (55) and "Das letzte Aufgebot" (59).
He realised his last movies as a director with "Der Herr vom andern Stern" (48), "Was ihr wollt" (54), "Der Kirschgarten" (59), "Der Widerspenstigen Zähmung" (62) and "Des Meeres und der Liebe Wellen" (65).

Besided his activity as an actor and director Heinz Hilpert also wrote some screenplays like "Drei Tage Liebe" (31), "Die unheimlichen Wünsche" (39) and "Der Kirschgarten" (59).