Grete Körner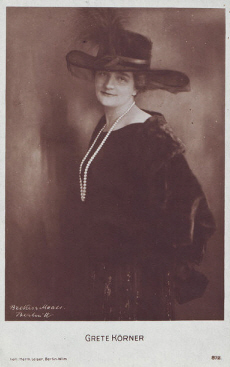 Foto: Becker & Maass (Atelier 1902-1938)
? - ?
.
.
The actress Grete Körner was only active for few years in the film business.

In the movie "John und Jonny" (18) directed by John Rappaport she acted at the side of Karl Beckersachs, Erich Bartels and Emil Sondermann.
In the same year followed the production "Das Glücksmädel" (18) with the same cast. For both movies Grete Körner was also active as a producer.

Her last cinematical works came at the beginning of the 20s into being with "Der Mitternachtsbesuch" (20) with Carl Auen, Karl Brenkendorf and Fred Goebel as well as "Ironie des Schicksals" (21) with Erich Bartels, Emil Sondermann and Karl Beckersachs.