Ernst Martens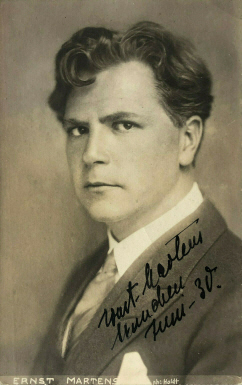 Foto: Hanns Holdt (1887-1944)

1891 - 1952
.
.
The actor Ernst Martens was born as Ernst Mayr and he was a busy actor on stage, among others in Munich. He only appeared seldom in front of the camera, especially at the beginning of his career.

His first movie came in 1919 into being with "Die sterbende Salome" (19) directed by Franz Seitz with Fritz Kampers, Albert Steinrück and Rolf Pinegger. Here he played the role of Gaston.

It followed a long interruption before he took part again in few movies in the sound film era from the 30s.
To these works belong "Um das Menschenrecht" (34) with Beppo Brem and Trude Haefelin, Hans Deppe's "Strassenmusik" (36) with Jessie Vihrog, Fritz Genschow, Karl Valentin, Lisl Karlstadt, Otto Wernicke and Fita Benkhoff, as Forges "Gold in New Frisco" (39) directed by Paul Verhoeven with Hans Söhnker, Alexander Golling, Otto Wernicke, Gustav Waldau and Ellen Frank, again for the director Hans Deppe "Der kleine Grenzverkehr" (43) with Willy Fritsch, Hertha Feiler, Heinz Salfner and Hilde Sessak and as King Silberhaar "Der kleine Muck" (44) with Gustav Waldau, Elise Aulinger, Viktor Gehring and Willi Puhlmann as the small Muck.