Gisela Schlüter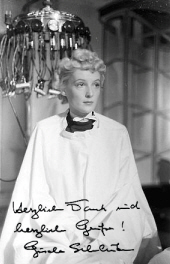 Foto: Willy Pragher Lizenz CC BY 3.0
Rechteinhaber Landesarchiv Baden-Württemberg

1919 - 1995
.
.
The actress and cabaret artist Gisela Schlüter made her film debut at the age of 19 and took part in four movies in her first year - "Der Tiger von Eschnapur" (38), "Das indische Grabmal" (38), "Eine Nacht im Mai" (38) and "Narren im Schnee" (38).

During wartime followed only three more movies with the title "Wir tanzen um die Welt" (39), "Der Gasmann" (41) and "Sechs Tage Heimaturlaub" (41).
The film came into the background and the cabaret became Gisela Schlüter's favourite field of activities. Therefore her film appearances only came off sporadically. To these movies belong "Dreizehn unter einem Hut" (50), "Die grosse Chance" (57), "Die lustigen Vier von der Tankstelle" (72) and "Unsere Tante ist das Letzte" (73).

Later she normally worked for Television, among others as a presenter for the program "Zwischenmahlzeit". Her trademark became the overwhelming flood of words which was hardly to subdue.