Richard Senius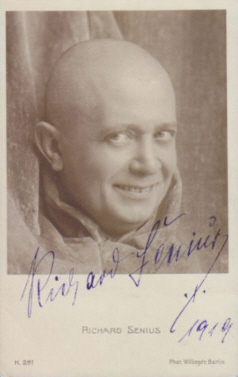 Foto: Wilhelm Willinger (1879-1943)
1876 - 1947
.
.
The actor Richard Senius was born as Richard Max Wilhelm Niewitz in Berlin. He became a demanded actor during the early silent movie era of the 10s. He often appeared in productions directed by William Karfiol.

He made his screen debut with "Aus eines Mannes Mädchenzeit" (13), afterwards followed numerous movies like "Der schöne Artur" (15), "Flaps hat den Flimmerwahn" (16), "Ehemann a.D. "(18), "Frauen in Nöten" (18), "Donna Lucia" (18), "Papa Krause" (18), "Peer Gynt" (19), "Krümelchens Reiseabenteuer" (19) and "Die weisse Maus" (19).

His film career came to an end at the beginning of the 20s.
To his last cinematical works belong "Lo, die Kokette" (20), "Lepain, der König der Verbrecher" (20) and "Die Beichte einer Gefallenen" (21).

He made a short comeback in 1933 and he appeared in his only sound film "Ganovenehre" (33).


Other movies with Richard Senius:
Tillas Vormund/Die Kleider der Maria Angelika (15) Mädels im Arrest (15) Wer küsst mich? (17) Ein nasses Abenteuer (17) Das durfte nicht kommen (17) Amor in der Klemme (18) So'n kleiner Schwerenöter (18) Aha, jetzt hab ich sie (18) Die Testamentsklausel (18) Hochzeitsmäuschen (18) Ganz ohne Krause (18) Das wandernde Glück (18) Primanerliebe (18) Hoppla, Vater sieht's ja nicht (19) Die Berliner Range - Lotte kuppelt (19) Ein toller Schwiegersohn (19) Die Seebadnixe (19) Sie können bei mir schlafen (19) Ein Frühlingstraum (19) Fürst Sally (19) Die Medaille der Republik (19) Mein Neffe – Der Herr Baron (19) Kord Kamphues, der Richter von Coesfeld (19) Krümelchen lernt boxen (20) Hoheit auf der Walze (20) Nicht doch – Männe (20) O, süsser Strolch (20)