Hans Staufen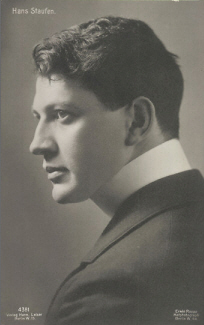 Foto: Erwin Raupp (1863-1931)

? - ?
.
.
The actor Hans Staufen was normally active at the theater, occasionally he also took part in movies.

Ihs first appearance in front of the camera was in 1912 in "Die arme Jenny" (12). Under the direction of Urban Gad he impersonated the role of the waiter Fritz Hellmann at the side of the film star Asta Nielsen.
It followed other movies with "Die Waffen der Jugend" (13) directed by Robert Wiene and "Der Traum einer Nacht/Am Abgrund" (17) with Maria Forescu.

His last cinematical works came in the 20s into being with "Die Vermummten" (20) with Wilhelm Dieterle and Friedrich August Koch, "Das Ende des Abenteurers Paolo de Caspado" (20) with Fritz Greiner, Josef Berger and Rolf Pinegger, "Das Wirtshaus im Spessart" (23) with Elise Aulinger, Dary Holm, Jack Mylong-Münzer and Rolf Pinegger and "Liebesfeuer" (25) with Liane Haid, Alphons Fryland, Paul Biensfeldt and Walter Rilla.

Besides his activity as an actor Hans Staufen also realised a movie as a director called "Die Liebe vom Zigeuner stammt..." (20) with Max Brod, Carmen Cartellieri and Alexander Granach.