Mario Steen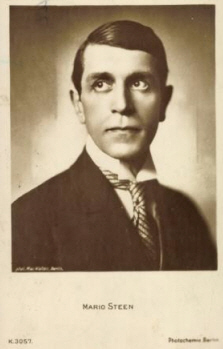 Foto: Mac Walten (1872-1936)

? - ?
.
.
The actor Mario Steen was active on the stage in the first place.

Only in 1919 he took part in his only movie "Kronprinz Rudolph oder: Das Geheimnis von Mayerling" (19) directed by Rold Randolf.
In this production he impersonate the role of t Count of Brajanza at the side of Rolf Randolf, Thea Sandten, Olga Engl, Marga Köhler and Viktor Senger.