Gustav Werner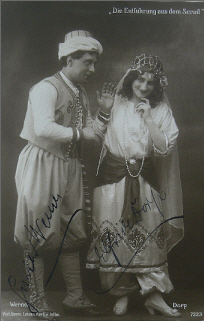 1875 - 1942
.
.
The actor Gustav Werner was already busy at the theater for many years when he took part in his first movie in 1919 called "Das kommt davon" (19).
His main activity remained at the theater and Gustav Werner appeared only in few more silent movies in the next years. To these movies belong "Könige des Humors" (22), "Der Siegeszug der Wiener Operette" (23) and "Hoch vom Dachstein" (28) at Mitzi Griebl's side.

Gustav Werner acted in his only sound movie in 1932 where he played the role of the hotel manager in "Die grausame Freundin" (32). To the cast members belong Anny Ondra, Fritz Rasp, Werner Fütterer and Olga Limburg.