Bertha Wiesenthal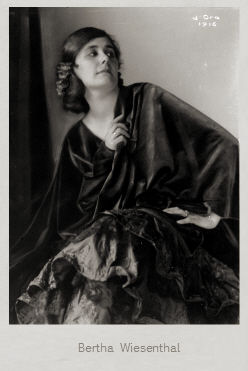 Foto: D'Ora Kallmus (1881-1963)
Mit freundlicher Genehmigung
Österreichische Nationalbibliothek Copyright


1892 - 1953
.
.
The actress Bertha Wiesenthal committed herself to the stage completely where she remained busy for many years. She was especially successful as a dancer together with her sisters Else and Grete Wiesenthal.

She only took part in one movie and this already in 1910 when the film business was at the early stage of development.
She impersonated under the direction of the theater icon Max Reinhardt the title role in "Sumurun" (10) with Victor Arnold, Rudolf Blümner, Leopoldine Konstantin, Ernst Matray and Eduard von Winterstein.