Pauline Chase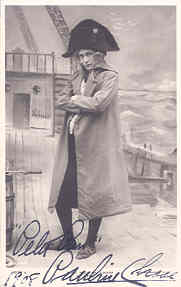 1885 - 1962
.
.
The actress Pauline Chase was born as Ellen Pauline Matthew Blissin in Washington. She got an education at the sister convent of the Holy Cross in New York. She made her stage debut in 1898 at the Casino Theater on the Broadway with the play "Rounders", her first success she achieved with the play "The Cadet Girl". Her face soon decorated countless magazines. In the same year she went to England where she made her British stage debut with "The Girl from Up There". After another excursion to the Broadway she worked again in England where she impersonated a small role in the play "Peter Pan". When the leading actress Cissie Loftus fell ill this was the moment of true for Pauline Chase and she was offered the leading role of Peter Pan.

Because of the role which she impersonated from 1906 to 1913 (about 1'400 performances) she became famous abruptly and even for the author of Peter Pan - J.M. Barrie - she was the favoured cast for Peter Pan. She became a demanded beauty of the British society, had influential friends and admirers and lived an extravagant life.

When she got married with Captain Alexander Victor Dummond in 1914 she retired from the theater and dedicated to her family. Only in 1916 she appeared again as an actress when she took part in her only movie called "The Real Thing at Last".