Grace Lane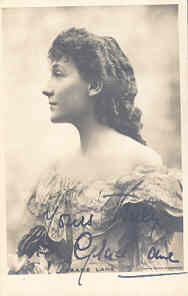 1876 - 1956
.
.
The actress Grace Lane was at home on stage where she impersonated numerous roles.
The film took only up a secondary role in her career. She made her film debut in 1920 with "The Honeypot", it followed the silent movies "Owd Bob" (24), "Taxi for Two" (29) and "The Feather" (29).

She appeared a last time in front of the camera in the 30's for the productions "The Mad Hatters" (35) and "Twelve Good Men" (36).