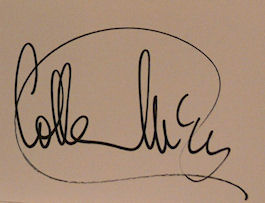 Die Schriftstellerin Colleen McCullough wurde in New South Wales geboren.
Sie erlernte den Beruf einer Neurologin und übte diesen in England und Australien aus.

Später ging sie in die USA, wo sie als Forscherin arbeitete und Dozentin an der Universität Yale war.

Bereits 1974 erschien ihr erstes Buch "Tim" (74), danach folgte der Bestseller "The Thorn Birds" (77), der international erfolgreich war.

In den kommenden Jahren verfasste sie weitere Romane wie "An Indecent Obsession" (81), "A Creed for teh Third Millennium" (85), "The Ladies of Missalonghi" (87), "The Song of Troy" (98), "The Courage and the Will: The Life of Roden Cutler VC" (99), Morgan's Run" (00), "The Touch" (03), "On, Off" (06), "Angel Puss" (06), "Queen of the Beast" (07), "The Independence of Miss Mary Bennet " (08) und "Bitersweet" (13).

Colleen McCullough verstarb 2015 im Alter von 77 Jahren in Burnt Pine, Norforkinsel.