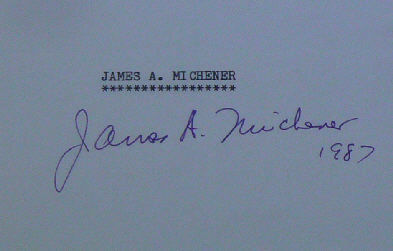 Der Schriftsteller James A. Michener wuchs als Waisenkind bei einer Pflegemutter auf - seine richtigen Eltern sind unbekannt, ebenso sein genaues Geburtsdatum.
Nach seiner schulischen Ausbildung unternahm er zwei Jahre lang Reisen in Europa, wo er auch studierte, ehe er nach seiner Rückkehr einen Job als Lehrer übernahm. Später wurde er Lektor bei Macmillan Publishers, ehe diese Tätigkeit durch den 2. Weltkrieg unterbrochen wurde. Er ging zur Army und schrieb dort während seiner Stationierung im Südpazifik sein erstes Buch mit "Tales of the South Pacific" (47).
Für sein Erstlingswerk wurde er mit dem Pulitzer-Preis ausgezeichnet. Dieses wurde später auch als Musical unter dem Titel "South Pacific" aufgeführt.
In den nächsten Jahren verfasste James A. Michener zahlreiche weitere Romane und Sachbücher, darunter "The Fires of Spring" (49), "Return to Paradise" (50), "The Voice of Asia" (51), "The Bridges at Toko-Ri" (53), "Sayonara" (54), "The Floating World" (54), "The Bridge at Andau" (57), "Rascals in Paradise" (57), "Japanese Prints: From the Early Masters to the Modern" (59) und "Hawaii" (59).
Seine Bücher, die oftmals auf historischen Tatsachen beruhten und jeweils umfangreiche Nachforschungen von James A. Michener beinhalteten, erfreuten sich grosser Beliebtheit.
In den kommenden Jahrzehnten schrieb er zahlreiche weitere Bücher, darunter "Report of the County Chairman" (61), "Caravans" (63), "The Source" (65), "The Modern Japanese Print: An Appreciation" (68), "Iberia" (68), "Presidential Lottery" (69), "The Quality of Life" (70), "The Drifters" (71), "Kent State: What Happened and Why" (71), "Centennial" (74), "Sports in America" (76), "Chesapeake" (78), "The Waterman" (78), "The Covenant" (80), "Space" (82), "Poland" (83), "Texas" (85), "Legacy" (87), "Alaska" (88), "Journey" (89), "Caribbean" (89), "Six Days in Havanna" (89), "The Eagle and the Raven" (90), "The Novel" (91), "My Lost Mexico" (92), "South Pacific" (92), "Creatures of the Kingdom" (93), "William Penn" (94), "Recessional" (94), "Miracle in Seville" (95), "tHIS nOBLE lAND" (96), "A Century of Sonnets" (97) und "Matecumbe" (07).
Seine Autobiographie erschien unter dem Titel "The World Is My Home" (92).
James A. Micheners Arbeiten wurden oftmals verfilmt und er schrieb dazu meist auch das Drehbuch.
Da James A. Michener keine Kinder hatte, lancierte er 1989 den "Journey Prize", der jährlich für die beste Kurzgeschichte eines jungen kanadischen Schriftstellers verliehen wird. Der Preis ist mit 10'000 kanadischen Dollar dotiert.
Weitere Gelder spendete er an Museen, Universitäten und karikative Institutionen.