(1850 - 1914)
The Superior Aunt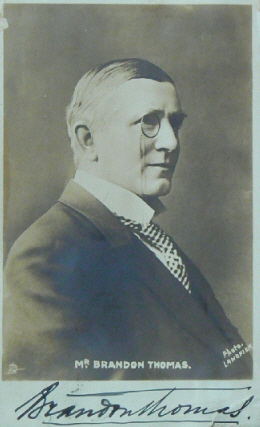 The writer Brandon Thomas was born as Walter Brandon Thomas in Liverpool.
Because his family lived in poor circumstances he already had to work as a juvenile at a shipyard. In addition he also was busy a an occasional journalist. Till 1875 he worked as a clerk for a timber merchant.
But there was also the early wish to become an actor and he exerted himself in this direction - a wish his father did not appreciate.
He first appearance as an amateur actor came in 1870 into being.
From 1879 he got engagements at the Court theater in London, his first play was "The Queen's Shilling" and with it he started his professional acting career. He became a demanded character actor on stage and he soon wrote own plays and revues.
The first staged play written by Brandon Thomas was "Comrades" and premiered in 1882.
Together with Rosina Vokes' company he went on an American tour in 1885 and returned in the middle of 1886 to England again.
Afterwards he continued his stage career in England again, among others with "Sweet Lavender".
A first big success he experience in 1891 when invested money into three one-act plays in which he acted himself of which he wrote one. The performances were very successful and the income as a co-producer was not bad for Brandon Thomas.
Today the name Brandon Thomas is not well-known in public but his most famous play he ever wrote is till today very popular and noted.
We are talking of "Charleys Tante", of course, which he wrote in 1892.
The play became a success straightaway and joined great popularity. "Charley's Aunt" all records of other plays and made Brandon Thomas a wealthy and independent contemporary.
What started in London in 1892 was continued in the USA in 1893 and in Germany as well as in France in 1894. From there the play conquered the rest of the world. The story has been tranlated into 28 languages and has been performed in over 70 countries till today.
Brandon Thomas could not repeat this enormous success in the next years - among others he wrote plays like "Marriage" (1892), "22a Curzon Street" (1898), "Women Are So Serious" (1901) and "Judge's Memory" (1906) - but he was able to thrive with it.
He continued his career as an actor and author till to his death, he often played in comedies and only sporadically in serious roles like plays of Shakespeare. To his successful appearacnes belong "Rosencrantz and Guildenstern" (1892), "The Rivals" (1895), "The Eternal City" (1902) and "Richard II" (1903).
It didn't last long and the new arising medium film used the play "Charleys Tante" for cinematical adaptions. The first filming was done in Italy with "La zia di Carlo" (13) directed by Umberto Paradisi.
Brandon Thomas died at the age of 64 in 1914. "Charley's Aunt" survived him till today and in the next decades there were numerous film and TV productions based on his play.
with Syd Chaplin in the title role
"Charley's Aunt" (26) with Elis Ellis
"Charley's Aunt" (30) witht Charles Ruggle
the first German filming "Charleys Tante" (34) with Fritz Rasp
the first French filming "La marraine de Charley" (36) with Lucien Baroux
the first TV adaption "Charley's Aunt" (38) with John Wood
"Charley's (Big Hearted) Aunt" (40) with Arthur Askey
"Charley's Aunt" (41) witht Jack Benny
"La zia di Carlo" (43) with Erminio Macario
the first Swedish filming "Fram för lilla Märta" (45) with Stig Järrel
the first Argentine filming "La tia di Carlos" (46) with Gogo Andreu
"La tia di Carlitos" (52) with Juan Carlos Altavista
"Where's Charley?" (52) with Ray Bolger
"Charleys Tante" (56) with Heinz Rühmann
the first Finn filming "Charleyn täti" (58) with Esko Salminen
"La marraine de Charley" (59) with Albert Michel
the first Danish filming "Charles' tante" (59) with Dirch Passer
the first Belgian filming "Waar is Charley?" (60) with Wies Andersen
"Charleys Tante" (63) with Peter Alexander
the first Spanish filming "La tia de Carlos en midi-falda" (66) with Cassen
"Charleys Tante" (76) with Jörg Pleva
"La tia de Carlos" (82) with Paco Martinez Soria
"Charley's Aunt" (83) with Charles Grodin
the first Hungarian filming "Charley nénje" (86) with Janos Galvölgyi
"Charleys Tante" (96) with Thomas Heinze
the first Dutch filming "De tante van Charlie" (06) with Jon van Eerd.