Jock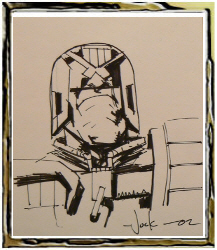 ?
.
.
Der Comic-Zeichner
Mark Simpson, der unter dem
Pseudonym "Jock" bekannt ist, begann seine
künstlerische Laufbahn bei "2000 AD", wo er
Comics wie "Judge Dredd" und "Lenny Zero" (00) zeichnete.

Zusammen mit dem Autor Andy Diggle schaffte er den Durchbruch
als Comic-Zeichner mit "The Losers" (03-06) und "Green Arrow: Year One" (07).
Es folgte eine Zusammenarbeit mit Mike Carey und Mark Simpson zeichnete
"Hellblazer: The Game of Cat and Mouse" (03) und "Faker" (07-08).
Bei der Fortsetzung "Hellblazer: Pandemonium" (10) arbeitete
er mit dem Autor Jamie Delano zusammen.
Er wurde bei DC Comics
zu einer festen Grösse und er zeichnete
für den Verlag u.a. Batwoman und Batman in Ausgaben
von "Detective Comics: Cutter" (10), "Detective Comics: The Black Mirror" (11),
"Detective Comics: Hungry City" (11), "Detective Comics: My Dark Architect" (11) und
"Detective Comics: The Face in the Glass" (11).

Zu seinen weiteren Comic-Arbeiten
gehören "Reapermen" (99), "Shirley Temple of Doom" (00),
"Dead Ringer" (00), "Ten Years" (00), "Crossing Ken Dodd" (00),
"Dead Zero" (00),
"Rampots" (01), "Safe Hands" (02),
"Rahab" (02), "Phage" (02), "Wipeout" (02), "No Such Place" (02),
"Tartan Terrors" (07), "Dark X-Men: The Beginning" (09),
"Forty Five: Amy Turner" (10), "Immortals: Gods and Heroes: The Hunt" (11)
und "Savage Volverine" (13).

Daneben schuf Mark Simpson auch zahlreiche Comic-Covers für viele grossen Comic-Verlagen,
darunter für "Judge Dredd vs. Aliens: Incubus" (03), "King James" (04),
"Batman: Legends of th Dark Knight No. 177-178" (04),
"Catwoman No. 43" (05), "Batman No. 642-650" (05-06),
"Nightwing No. 118-124" (06), "Swamp Thing No. 26" (06),
"Thunderbolts No. 127" (09), "Deadlocke No. 1" (09),
"Driver" (10), "Daredevil No. 511" (11), "Incredible
Hulks No. 626" (11), "Marvel Universe vs.
Wolverine No. 3" (11) und "Jupiter's
Legady No. 2" (13).

Auch
beim Film
wurden seine künstlerischen
Talente gerne eingesetzt und er arbeitete
als konzeptioneller Künstler für die Filme "Children of Men" (06),
"Hancock" (08), "The Losers" (10), "Hanna" (11), "Battleship" (12),
"Dredd" (12), "G.I. Joe: Retaliation" (13) und "X-Men: Days of Future Past" (14).