Heinz Könecke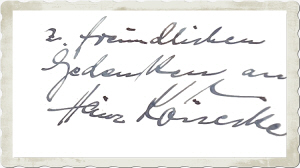 1902 - ?
.
.
The actor Heinz Könecke joined the film business during the silent movie era and he played the young Altlechner in Franz Seitz's "Der Weiberkrieg" (28) with Fritz Kampers, Liane Haid, Lotte Lorring, Ferdinand Martini and Josef Eichheim, it followed "Grossstadtkinder - Zwischen Spreed und Panke" (29) with Grete Reinwald, Carl Auen, Karl Harbacher and Gustl Stark-Gstettenbaur and as Herr Lechner "Der Sonderling" (29) with the legendary Karl Valentin and Liesl Karlstadt as well as Truus van Aalten, Ferdinand Martini and Gustl Stark-Gstettenbaur.

His last cinematical works came in the 30s into being.
He played Herbert Schmitt in Alfred Zeisler's "D-Zug 13 hat Verspätung" (31) with Charlotte Susa, Ludwig Andersen, Fee Malten and Alfred Beierle, he was Quitt in "Das Ekel" (31) with Max Adalbert, Evelyn Holt, Rosa Valetti, Alfred Abel and Rudolf Biebrach, he impersonated the lieutenant Eckartsberg in Gerhard Lamprecht's "Der höhere Befehl" (35) at the side of Lil Dagover, Karl Ludwig Diehl, Heli Finkenzeller, Friedrich Kayssler, Eduard von Winterstein, Aribert Wäscher, Hans Leibelt, Hans Mierendorff, Karl Dannemann and Siegfried Schürenberg and he took part in "Schlussakkord" (36) directed by Douglas Sirk mit Willy Birgel, Lil Dagover, Maria von Tasnady, Maria Koppenhöfer, Theodor Loos, Peter Bosse, Erich Ponto and Paul Otto.