Peggy Longard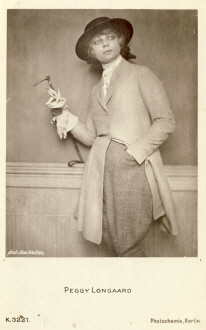 Foto: Mac Walten (1872-1936)

1892 - ?
.
.
The actress Peggy Longard was born as Hedwig Charlotte Braun in Berlin. She took part in some movies from 1919 but her career remained limited to the silent movie era.

In her first movie "Aberglaube" (19) she acted under the direction of Georg Jacoby with Victor Janson, Johannes Müller, Frida Richard and Ellen Richter. It followed "Ich lasse Dich nicht" (19) with Paul Biensfeldt, Fred Immler, Edith Meller, Lina Salten and Magnus Stifter and "Unheimliche Geschichten" (19) directed by Richard Oswald with Reinhold Schünzel, Conrad Veidt, Anita Berber, Bernhard Goetzke, Hugo Döblin, Paul Morgan and Georg John.

At the beginning of the 20s she took part in the productions "Der Vampyr" (20) with Uschi Elleot, Hella Moja, Else Berna and Esther Carena, "Kloster Wendhusen" (21) as Lotte with Olga Engl, Karl Gebhardt, Fred Immler, Edith Meller and Max Wogritsch, "Die Tochter Ahasvers" (21), "Der Abenteurer" (21), the three-part series "Fortunato" (21) with Oscar Marion and Rita Clermont and playing the role of Mrs. Holgermann "Klein Bobby auf der Fährte" (21) at the side of Julius Strobl, Tibor Lubinszky, Carl Goetz and Leopold Iwald.

Peggy Longard had to emigrate with her husband to Brazil in 1938 because of their Jewish origins.