Guido Thielscher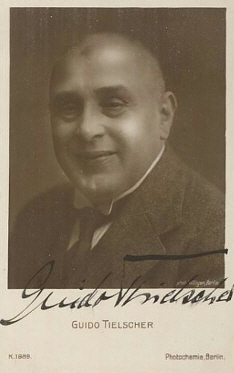 Foto:Wilhelm Willinger (1879-1943)
1859 - 1941
.
.

The actor Guido Thielscher became very popular as a comedian on the stage.

To fulfill his his ambition to become a performing artist he took acting lessons by Heinrich Oberländer and singing lessons by Ferdinand Gumbert.

Afterwards he made his stage debut in 1877 and it followed many engagements at different theaters in the next years, among them the Thalia Theater. He became favored by the audience in no time with comedic plays in which he predominantely took part.

When he was engaged at the Deutsches Theater in Berlin he could break out of the comedy business and he appeared in several classic plays.

The the comedy remained his real passion and he continued to act on numerous stages as a comedian.

In 1915 they tried to use his popularity in the film business as well and he became his own movie serial.
To Guido Thielsche's first movies belong "Guido, der Erste" (15), "Guido im Paradies" (15) and "Guido und seine Kinder" (16). All these movies were directed by Paul Otto who was also a famous actor.

Based on the play "Charleys Tante" Paul Otto directed he movie "Florians Tante" (16) with Guido Thielscher playing the role of the aunt. To his cast members belonged Ressel Orla and Wilhelm Diegelmann. It followed "Theophrastus Paracelsus" (16) with Guido Herzfeld and Rudolf Essek.

Guido Thielscher's last movie came into being under the direction of Max Mack. At the side of Alexander Moissi, Hella Moja and Eduard Winterstein he impersonated the role of the gardener Antonio in "Figaros Hochzeit" (20).

In the 20s he concentrated again to the stage exclusively and he had his own troup. Guido Thielscher remained busy at the theater till the old age and he continued to entertain the audience. In 1934 he retired from from the stage.