BIOGRAPHY of ASTRID LINDGREN
(born on the 14th November 1907 in Vimmerby, Sweden - died on 28th January 2002 in Stockholm, Sweden)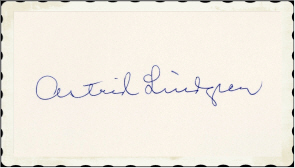 The writer Astrid Lindgren is probably the most successful children's book author. She became not only famous with her books but also as a result of numerous filmings of her books which made her very popular.
One is often astonished what multitude of well-known figures she created.
To her books belong together with Pippi Longstocking also Kalle Blomquist, The Children from Bullerbü, Mio my Son, Vacations on Saltkrokan, Madita, Karlson on the Roof, Emil from Lönneberga, The Brothers Lionheart and Ronia the Robbers Daughter.
She began her professional career with a job for the newspaper Vimmerby Tidning for which she was active in the fields investigation and writing brief reports beside her normal article writing and was able to collect great experiences.
When she became pregnant at the age of 18 she decided not to marry the father but to be responsible for her son alone. The first three years had her son to spent by a foster-parents. Only in 1929 she was able to look after him when she met Sture Lindgren.
Astrind Lindgren only came to the book writing in 1941 when she was confined to her bed after an injury on her ankle. She made Pippi Langstrumpf up and read it to hoer daughter.
this was the beginning of an incomporable literary career which made her unforgettable till today and although for future generations.
Till to the publication of her book Pippi Longstocking is lastest some more years, only in 1945 became her book published for the first time, four years later also in Germany.
Afterwards followed many other successful books like "Detective Kalle Blomquist" (1946), "The Children from Bullerbü" (1947), "Kati" (1950), "Mio, my Son" (54), "Karlson on the Roof" (55), "Nils Karlsson-Däumling" (56), "Rasmus and the Tramp" (56), "Happy
Especially her book "The Brothers Lionheart" (73) differs from her other books to the effect that she deals with adult topics and where death plays a central role.
Astrid Lindgren was honored with numerous awards in her last years and when she died at the age of 94 in 2002 there were several hundred thousand people at her funeral.