Hortense Raky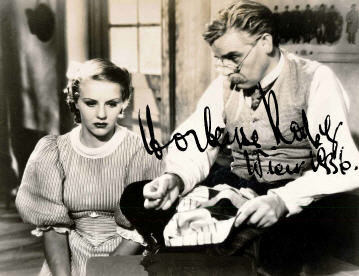 Lichtbild aus "Burgtheater" 1936

1918 - 2006
.
.
The actress Hortense raky joined the Max Reinhardt seminar in Vienna and appeared at the age of 16 on stage for the first time.
She made her film debut at the early age of 20 and took part in the productions "Das Frauenparadies" (36), "Burgtheater" (36), "Die entführte Braut" (37) and "Roxy und das Wunderteam" (37).

But her film career came to an abrupt end. On the one hand she did make no secret of her aversion to the Nazi regime, on the other hand she had to flee to Switzerland when Austria became part of the German Reich in 1938 because her father was a Jew. In Switzerland she dedicated again to the theater.

The theater also remained the great passion of Hortense Raky after the war, she only appeared in front of the camera sporadically.
To her post-war movies belong "Gasparone" (56), "Elisabeth Kaiserin von Österreich" (72), "Briefe von gestern" (72) and "Verurteilt 1910" (74).

Hortense Raky was married with the actor Karl Paryla. Her sons Stephan and Nikolaus Paryla became also actors.