Alexandre Dumas père
(1802-1870)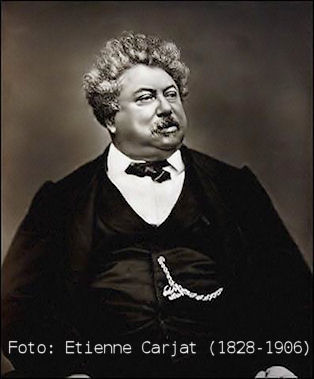 Dumas father, a General in the army of Napoleon und illegitimate son of a negress, died already in 1805. So Dumas had to grow up without a father. He got a hasty education which earned him the modest position of a advocat writer.
At the age of 21 he went to Paris which is due to an old fellow soldier of his father who showed an interest in him.
For the time being he wrote three books and as a fellow writer two stage plays. He achieved his first success at the age of 27 with the historical drama "Henri III et sa cour".
The political disturbances took his mind off his literary activity. He participated in the revolt in 1830 with such a enthusiasm that he was sent to the provinces in order to organize aid for the new regime.
But it seemed that Dumas was more fascinated of the adventures of practical politic than political principle question. So he was relieved from office. He turned away from the happenings of contemporary history and plunged into descriptions of historical material for a novel.
When he finished a play about Napoleon he had to leave France for some time for health reasons. But short after his return he drew applause for his play "La Tour de Nesle".
With it he managed his way as a dramatist.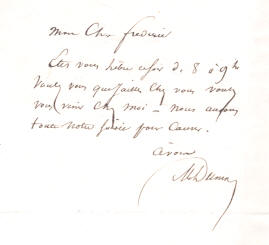 Gérard de Nerval ask him in 1837 for his cooperation for the drawing up of an operetta for Jenny Colon, and two years later they produced together the play "L'Alchémiste". Dumas produced from now on one play each year, now and then several, and beside it a flood of novels, articles and stories.
His creative urge became proverbial: "he works without breaks, produces punctual day and night and has only the posterity of tomorrow in mind", wrote Commerson in the "Binettes".
As many other popular artist Dumas was confronted with a critical crowd of so-called experts. But Dumas possessed a good-natured temperament, so all the condescensions of the literary world didn't leave bitterness in him. He was contented with the existence of a best-selling author. This state was granted to him for good when he wrote the adventure novels in 1844 and 1845 for which he is still known today in the first place - "Twenty Years Later", "The Three Musketeers" and "The Count of Monte-Cristo".
The incidents of 1848 broke out his political imagination once more. He participated in the revolution and became even a parliament candidate. After the coup of Louis Napoleon he had to go into exile to Brussels but came back to Paris in 1854.
Alexandre Dumas père died at the age of 68. His son Alexandre Dumas frère became also a famous writer, especially with his novel "Madame Butterfly".

Extract from his works:
The Count of Monte-Cristo, The Black Tulip, The Three Musketeers, Queen Margot; The Nutcracker, Caligula, Hamlet, prince de Danemark, Le Vampire, Le Vingt-quatre février, Napoléon Bonaparte, Ten Years Later, The Corsican Brothers, Twenty Years After